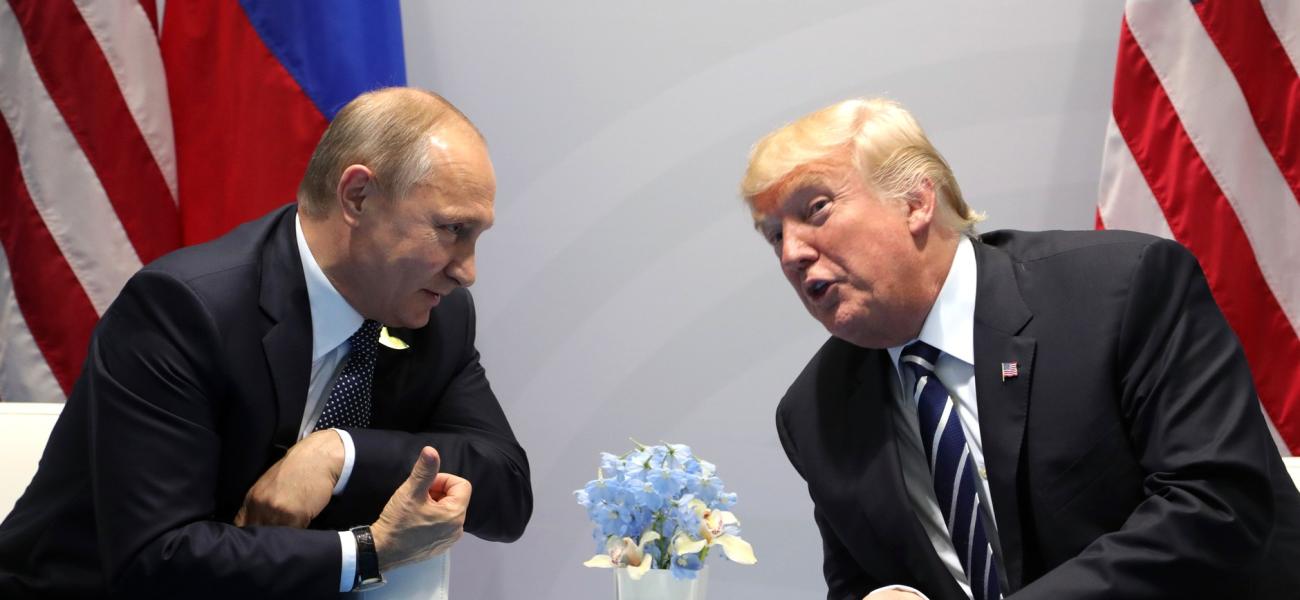 Trump and Putin's Pandemic Duet: Trump's America Is Far More out of Tune
August 21, 2020
Judyth Twigg and J. Stephen Morrison
The authors argue that Russian president Vladimir Putin and President Donald Trump "share a playbook that has led each country into deep turmoil." However, Trump "…has also travelled well beyond the commonalities—in terms of his abdication of leadership, generating chaos and incoherence; the assault upon science and U.S. public health institutions; and the politicization of the pandemic response. As a consequence, the scale, scope and velocity of the U.S. outbreak far outstrips Russia's (and the rest of the world's), as does the staggering loss of life." The authors believe that "U.S. prestige and influence have suffered" and that "the United States has entered a world of trouble far beyond anything Russia faces today."
Twigg and Morrison list several areas in which Russia and the United States "diverge conspicuously."
"No city or province in Russia is now experiencing a runaway resurgent outbreak as extreme as what has been seen since July in the American South and Southwest, and now increasingly in the Midwest. Over 1,000 Americans are still dying of Covid-19 every day. Even if Russia's numbers are fudged by a factor of two or three, and taking into account that the U.S. population is double that of Russia, the U.S. death toll is still an order of magnitude higher than Russia's."

"Most Russian regions have retained and extended a reasonable set of public health measures designed to curb spread of the virus. Transmission within and between health facilities, one of the most common problems early in Russia's epidemic, has been largely interrupted there. In the United States, the virus has had free rein to exploit weak local public health infrastructure, underfinanced and short of staff after suffering a 30 percent loss of capacity in the 2008 recession."

"In Russia, it is a different breed of politicization. Even Putin is not willing to deny the logic behind basic precautions against spread of the virus. No Russian leader is turning mask rejection into a political loyalty test, complete with implicit demands that everyone from White House staff, to partisans on Capitol Hill, to faithful supporters across the country disregard science and logic to such an alarming degree. Nobody in leadership positions in Russia is wielding face masks as a political weapon."

"Putin still hews to the rule that authoritarian states ultimately have to deliver results. In the context of a global pandemic, that means he is beholden to the imperatives of fact and science and is consciously reliant on the state instruments of public health. In the United States, by contrast, Trump and his allies continue to insist that everything is normal, hoping that opening schools and opening businesses will bring electoral gains come November. Instead, this form of public health malpractice has opened new pathways for the spread of the virus."
Read the full article at CSIS.
Author
Judyth Twigg
Judyth Twigg is a senior associate (non-resident), at the Russia and Eurasia Program and Global Health Policy Center at CSIS.
Author
J. Stephen Morrison
J. Stephen Morrison is the senior vice president and director at CSIS' Global Health Policy Center.