In the Thick of It
A blog on the U.S.-Russia relationship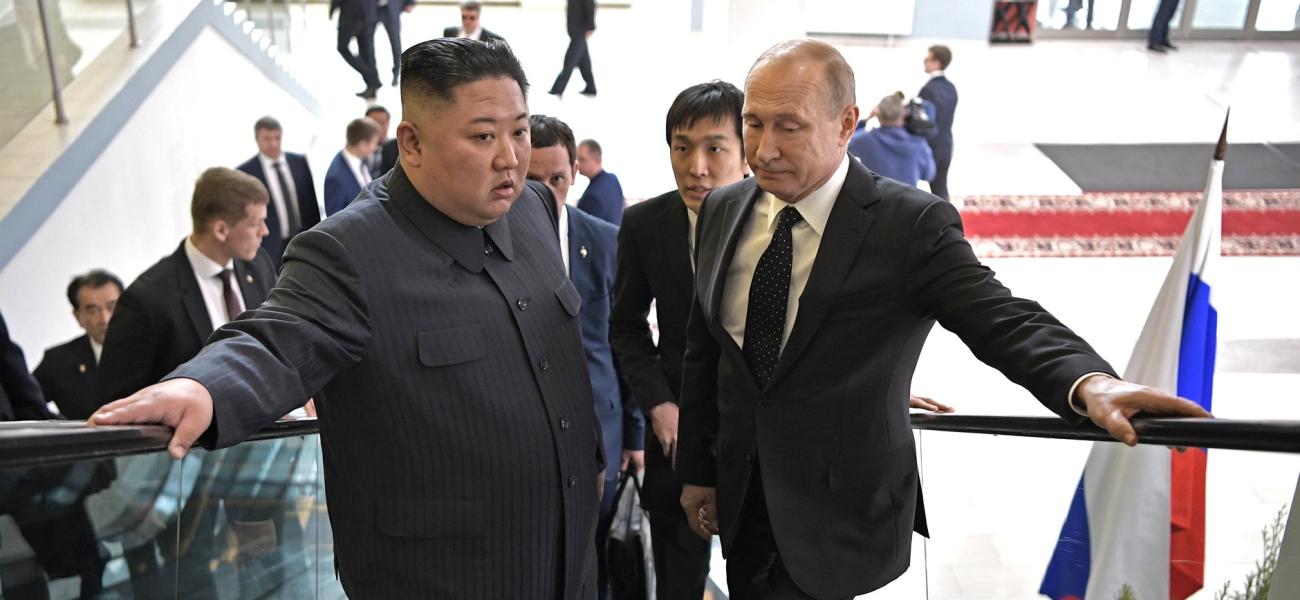 With North Korea, Russia Knows It Can Only Play Second Fiddle to China and US
April 25, 2019
Simon Saradzhyan
This week's summit between Vladimir Putin and Kim Jong Un—the first between the Russian and North Korean leaders—has proved to be as underwhelming as expected. While the two spent twice as much time talking face-to-face as had been planned, they neither announced any major agreements nor appeared to have achieved any progress toward denuclearization of the Korean peninsula.
In fact, the Kremlin had even warned before the talks that no major statements or deals were likely. And it did so for a reason: Contrary to some experts' views, Russia is neither the key to denuclearizing North Korea nor can it "deliver" an arms control agreement covering North Korea's arsenals, even in exchange for a softening of Western sanctions on Moscow. While Russia is an important player in both regional and international non-proliferation efforts, it has substantially less leverage vis-à-vis North Korea than either the U.S. or China; Moscow cannot single-handedly achieve a breakthrough in efforts to push Pyongyang into rolling back its nuclear weapons program, even though it shares America's interest in a nuclear-free Korean peninsula. (Granted, Moscow is perhaps more skeptical that this can be achieved.)
Moscow's lack of heft is determined by economics: Unlike the Soviet era, Moscow is no longer a top economic partner for Pyongyang. While North Korea imported almost $2.4 billion worth of merchandise from mainland China in 2018 (82 percent of its imports), it imported only $34.1 million worth of merchandise from Russia (1.2 percent of its imports), according to the IMF. Also, while North Korea exported $208.7 million worth of merchandise to China (29 percent of its exports) that year, Russia imported a mere $1.9 million worth of merchandise from North Korea (0.3 percent of the latter's exports), according to IMF figures. Among other things, China supplies most of North Korea's crude oil and petroleum imports, according to the Energy Information Administration. Chinese companies have also been estimated to account for 75 percent of partners in joint ventures with North Korean enterprises, serving as the largest source of investment into the country. Finally, in addition to being North Korea's largest trading partner, China has also been its prime source of food aid.
In contrast to China, the U.S. has been more of a bad cop to North Korea in the post-Cold War period. It has led the imposition of multiple rounds of sanctions and has rejected Kim's wishes both for a joint declaration ending the Korean War and for guarantees of no regime change in his country. (Recently, though, Washington has been more vocal in touting the economic benefits North Korea could gain if it were to abandon its nuclear and missile programs.)
Reflecting China's and America's importance to his country, Kim has met Xi four times since last year and Trump twice before getting around to holding a bilateral summit with Putin in Russia's far eastern city of Vladivostok.
Russian imperial strategists gave that city its name in the 19th century—combining "vladet'" ("to own" or "to rule") with "vostok" ("the east")—with the view that their country would be the master of the Far East, the same way the city of Vladikavkaz was supposed to become the symbol of Russia's domination in the Caucasus. Modern-day Russia is not a dominant power in Asia, however. While Putin has demonstrated that he can play a weak hand extremely well in some corners of the world (notably Syria and the larger Middle East), that is not the case on the Korean peninsula. There China holds the largest stock of carrots and the U.S. probably wields the biggest arsenal of sticks.
In short, if anyone has the silver bullets to slay North Korea's nuclear program, it is probably Xi and Trump, not Putin. The Russian leader understands this and plays his cards accordingly, focusing on keeping Russia involved in denuclearization efforts, but not trying to lead them.
The opinions expressed in this commentary are solely those of the author.