In the Thick of It
A blog on the U.S.-Russia relationship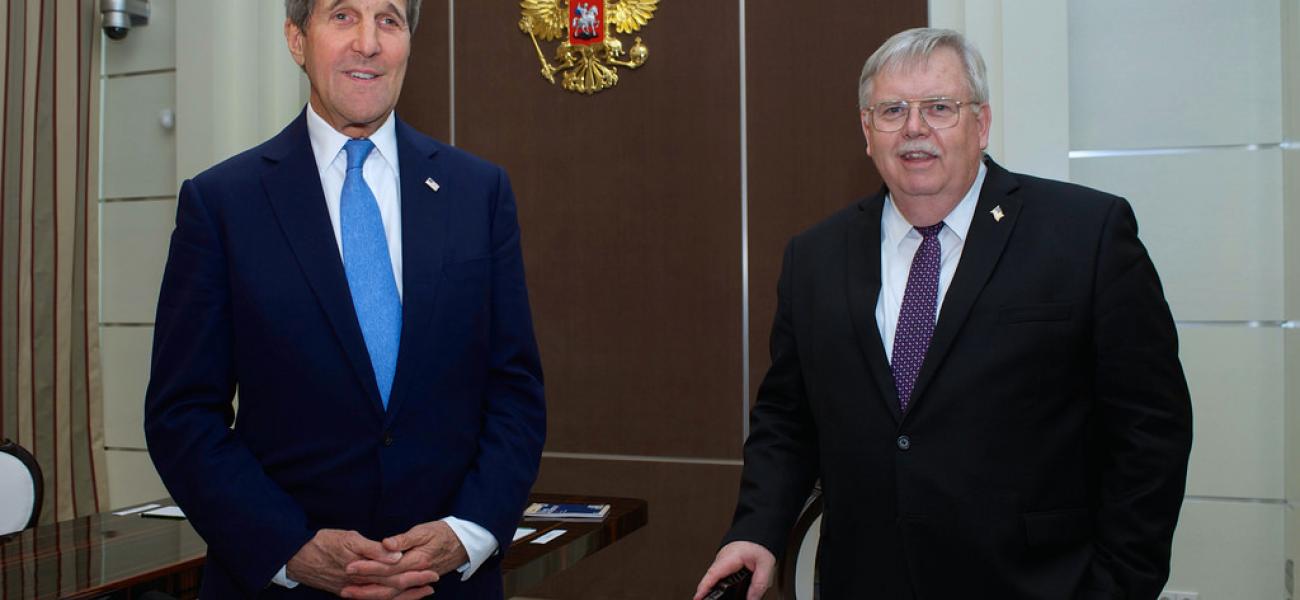 Outgoing US Ambassador to Russia Reflects on Troubled Relationship and Key Issues
October 03, 2017
RM Staff
On the eve of his departure as U.S. ambassador to Russia, John Tefft (pictured above, right) sat down for a lengthy interview with the Russian daily Kommersant. Needless to say, the changing of the guard at the U.S. Embassy in Moscow—Tefft's successor, Jon Huntsman, presented his credentials to President Vladimir Putin on Oct. 3—comes at a low-point in U.S.-Russian diplomatic relations.
Among the topics broached in Tefft's interview were Russian interference in the 2016 U.S. presidential election, the conflicts in Ukraine and Syria and the retaliatory expulsions of diplomats that has left the Moscow embassy short-staffed—severely so, in Tefft's view. Still, the outgoing ambassador suggested that he saw promise for U.S.-Russian cooperation on several fronts, including Syria and North Korea, and he was receptive to a Russian plan to deploy U.N. peacekeepers in Ukraine—with some big caveats. At the same time, Tefft bluntly insisted that Russia needed to acknowledge meddling in the election and to restore Ukraine's "territorial integrity."
One topic that was notably absent from Tefft's interview was arms control, even as differences between Moscow and Washington threaten to kill the INF Treaty and hobble the Treaty on Open Skies. What follows are highlights of the interview, back-translated from Kommersant. (We presume the interview was in English, but no transcript was publicly available at the time of publication.)
On leaving Moscow and top priorities in bilateral ties:
I am leaving with mixed feelings. I am proud that my team and I have managed to do our work professionally, with dignity and respect, even at times when we were treated otherwise. … At the same time, I am obviously disappointed that we have not been able to make more progress in areas that require the utmost and urgent attention. First, of course, this concerns the Ukraine issue. It had dominated the agenda before I came here and continued to dominate it during the entire period of my work in Moscow. Cyberattacks carried out against the United States have had a terrible impact on our relations.
On election hacking, after the interviewer pressed Tefft to substantiate the claim of Russian involvement, saying that "the U.S. has not provided any evidence publicly":
We have presented certain evidence to the public, but we are also very cautious, because we do not want to disclose the sources and methods used to obtain this evidence, and I think that Russian special services would have used the same approach in such a situation. And there is more evidence that Russia has invested money in advertising on Facebook to influence the election results. Evidence keeps emerging. We want Russia to somehow acknowledge that it actually carried out these [cyber]attacks, and to clearly state that it would never do so again. … The problem is that all official representatives of the Russian Federation deny that Russia did this, while in the U.S. everyone is convinced that Russia did do it.
On Russia's proposal to deploy U.N. peacekeepers in Ukraine, which Kiev has deemed inadequate:
We believe that the idea proposed by Russia is worth studying. And I know that the U.N. Security Council in New York has already started this work. We are convinced that the mandate of such a mission should be based on respect for the sovereignty of Ukraine and contribute to the goal of restoring its territorial integrity. U.N. peacekeeping forces should be given a broad mandate that would allow them to work on the entire territory affected by the conflict, including international control on the Ukrainian side of the border between Ukraine and Russia so that deepening or institutionalizing the dividing lines within Ukraine can be avoided. … If we can make progress in Donbass, then we would be prepared to cancel part of the sanctions. So far, however, we have not even come close to this goal, so there has been no serious conversation on this topic [of easing sanctions].
On Syria:
I have always believed that Russia and the United States can cooperate in Syria. Our main common goal is to destroy IS [Islamic State]. There is an IS bridgehead there and we are fighting to remove it. And we are nearing this goal. The whole basis of our cooperation with Russia rested on two pillars: to defeat IS and to find a diplomatic way out of the political crisis in Syria. We believe that [Syrian President Bashar al-]Assad must go. This was the position of the previous administration, which believed that Assad must leave first, and that is the position of the current administration, which believes that his departure will be inevitable later on.
On allegations that U.S. forces in Syria were responsible for the recent death of a Russian general there and otherwise endangered Russian soldiers:
In response to these reports, I would like, first of all, to express my condolences to his family. It is terrible when soldiers die. However, statements that we are responsible for what happened are absolutely groundless. They have no basis in reality. They are wrong. And Washington has already clearly stated this. Quite frankly, such accusations make us doubt that Russia wants to cooperate with us in Syria.
On North Korea:
We have had an excellent series of talks between [U.S. special representative for North Korea policy Ambassador Joseph]Yun and Deputy [Foreign] Minister [Igor] Morgulov, and we are aware that a high-ranking representative of the DPRK Foreign Ministry is coming to Moscow in the near future. Let us see what she says. However, the basic idea is that we want nuclear and missile tests to stop. They threaten international peace and security.

Our Russian friends tend to view this issue as any other foreign policy issue, but I think that they are wrong. North Korea represents an existential threat to us.

When a country threatens to send nuclear warheads and strike the continental territory of the United States, then this is very serious.
In response to the suggestion that the U.S. refers to Russia as a "friend" only when it needs its help:
We know that Russia is a world power that influences many processes. And we approach the interaction with Russia in a very pragmatic way. It seems to me that the Russian authorities are approaching cooperation with the United States the same way.
On a recent report in BuzzFeed that Putin proposed a broad "reset" of U.S. relations in March that seemed to be largely ignored by Washington:
[Secretary of State] Rex Tillerson has pointed out several issues, in particular the Ukraine issue, on which the U.S. expects positive steps from Russia. That, in a nutshell, is the current policy of Washington toward Moscow. Many documents with proposals circulate both ways, but the statement of the secretary of state has been vetted and agreed upon, so it very accurately sums up our position.
On whether the "embassy wars" between Russia and the U.S. had ended:
I hope so. As Secretary of State Rex Tillerson has said, Russia has ensured parity [in number of embassy and consular employees], we have ensured parity, so we are now ready to turn this page and go forward.
The opinions expressed in this commentary are solely those of the author.