In the Thick of It
A blog on the U.S.-Russia relationship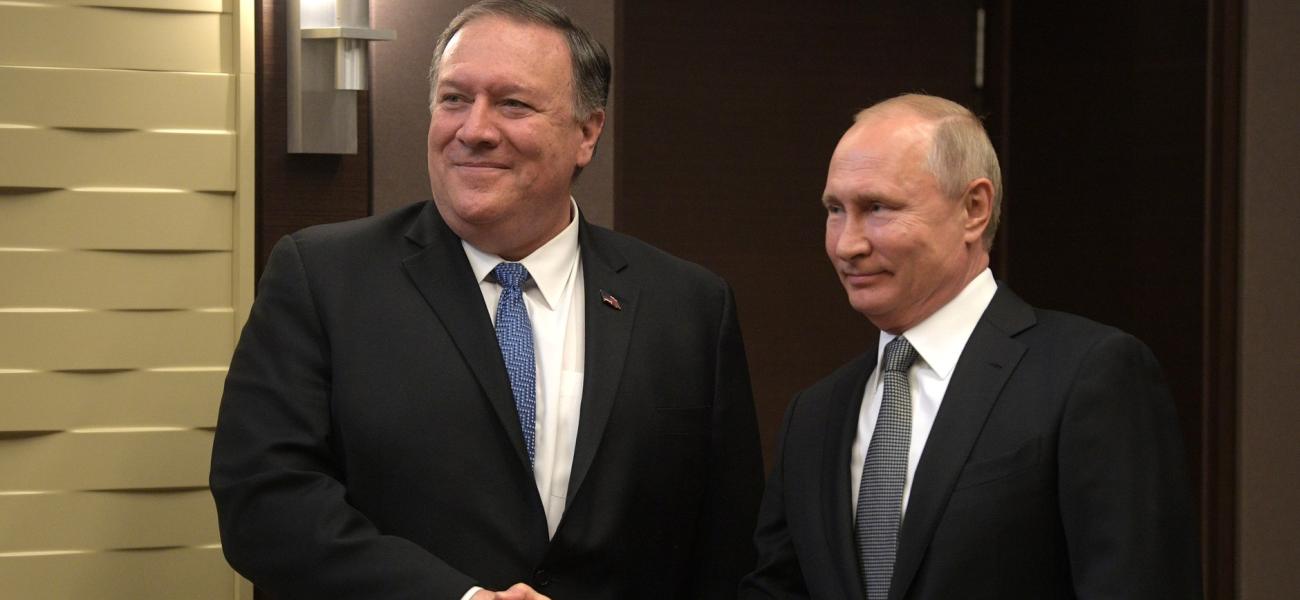 Pompeo in Russia: Key Takeaways on Bilateral Priorities
May 15, 2019
RM Staff
"I am here because President Trump is committed to improving this relationship," U.S. Secretary of State Mike Pompeo said at the start of his May 14 talks with Russia's Foreign Minister Sergei Lavrov and, later that day, with President Vladimir Putin. Though the atmosphere in the seaside Russian resort town of Sochi was upbeat and conciliatory, it nonetheless could not hide all the many differences between Moscow and Washington. The visit, as noted by the Financial Times, "comes amid speculation over the potential for new U.S. sanctions against Russia, clashes between the two countries over the crisis in Venezuela and moves by the U.S. to isolate Iran, an ally of Moscow." Putin's talks with Pompeo—who was making his first trip to Russia as secretary of state—focused mostly on international issues, including Syria, North Korea, Afghanistan, Libya, Iran and Venezuela, as well as strategic stability and nonproliferation, according to the Russian president's aide Yuri Ushakov. Election interference also came up, and Pompeo and Lavrov's meeting covered similar ground. Prior to the talks, a senior State Department official had told reporters that the two foreign ministers would be having a "very candid conversation" about concerns in the bilateral relationship.
Below you will find key comments related to the meetings made by Pompeo, Putin, Lavrov and other officials, as well as some analysis and recent developments that add important context.
This post was originally published May 14, 2019, and has been updated since then.
I. U.S. and Russian priorities for the bilateral agenda
North Korea's nuclear and missile programs:
Before the Sochi meetings, a senior State Department official had told reporters that the two sides had had constructive discussions on efforts to get Pyongyang to give up its nuclear weapons. That's occurred, he said, "even though we don't agree with Russia about all the details of how to achieve this goal." (RFE/RL, 05.10.19)

Russian officials told Pompeo that Moscow "is open to cooperation with all interested parties with the aim of creating a stable security mechanism in Northeast Asia. We stressed that it is very important in this context to provide international security guarantees to North Korea in response to its steps on denuclearization," Russian presidential aide Yuri Ushakov said after Pompeo's talks with Putin. He added that

Moscow thinks Pyongyang will not give in to "any type of pressure" and that both countries' leadership has been happy with the

contacts between Russian and U.S. representatives for North Korea. (TASS, 05.14.19)
Lavrov, after his meeting with Pompeo, said that Russia does support negotiations over nuclear disarmament with North Korea. Although Putin met with the North's leader, Kim Jong-un, last month, Lavrov offered no suggestion that the stalemate in nuclear talks would break anytime soon. "We are ready to support that dialogue," he said. (New York Times, 05.14.19)
Iran's nuclear program and related issues:
Military issues, including NATO-Russia relations:
According to current and former U.S. officials familiar with internal State Department deliberations, Pompeo's office recently directed the department to quash a harshly worded statement condemning a "Russian-backed coup attempt" in Montenegro ahead of the Balkan nation's entry into NATO. The officials suggested his had been done because the secretary wanted to soften combative tones with Moscow ahead of his visit to Russia. (Foreign Policy, 05.10.19)
Nuclear arms control:
Counterterrorism:
A senior State Department official noted last week that there are areas where the U.S. is working jointly with Russia, such as the Afghan peace process and counterterrorism. (CNN, 05.13.19)
Russia and the United States should cooperate more actively on a peace settlement in Afghanistan, Russian presidential aide Yuri Ushakov told reporters after Pompeo's talks with Putin. He said Putin had noted the "rather good cooperation between specialists of our countries" but had also pointed out that the Taliban is getting stronger, "so we need to step up cooperation and try to achieve the balance of power in this country," Ushakov said.

Russia, China and the U.S. held a trilateral meeting in Moscow on the situation in Afghanistan on April 25, after which they called on the Taliban to join talks with Afghan authorities as soon as possible

. (TASS, 05.14.19)
Conflict in Syria:
Describing Putin and Pompeo's talks on Syria, Russian presidential aide Yuri Ushakov said they "discussed the importance of jointly fighting against international terrorism and noted that it is very important to finally launch the Syrian constitutional committee."

Ushakov noted that "the discussion was business-like and constructive, and it revealed many aspects on which we have similar positions." Ushakov added that Russia favors "a peaceful negotiations process under the auspices of the U.N. with participation of all constructive forces" and that Putin stressed the importance of respecting Syria's sovereignty and "preserving its territorial integrity." (TASS, 05.14.19)
Pompeo said he was "excited" about the Syria part of the conversation with Putin, hinting that some agreement was found on "how to move the political process forward," specifically on getting various Syrian factions together to discuss forming a non-sectarian government in line with a 2015 U.N. Security Council resolution. But both Putin and Trump have limited influence on that process, and Pompeo admitted, "I'm not sure we have all the capacity of that." (Bloomberg, 05.15.19)

Pompeo and Lavrov discussed

the escalation of violence in Idlib, Syria

. (

CNN, 05.14.19)

See also "

Iran's nuclear program and related issues" above

.
Elections interference:
Energy exports:
Putin, speaking ahead of talks with Pompeo, said the two had something to talk about when it came to stability on global energy markets. (Reuters, 05.14.19)
Other bilateral issues:
II. Foreign affairs, trade and investment
Russia's general foreign policy and relations with "far abroad" countries:
China:
Chinese Foreign Minister Wang Yi held talks with Putin and Lavrov in Sochi on May 13, the day before Pompeo's visit. Wang said China-Russia relations "are not vulnerable to obstruction or outside interference" and set an example "beyond compare," while the world was "in chaos and disorder" with "unilateralism run[ning] rampant"—a thinly veiled criticism of U.S. policy. Wang's comment came after Beijing and Washington had dramatically escalated their tit-for-tat trade war. (South China Morning Post, 05.14.19)

See "

Nuclear arms control" section above.
Ukraine:
Pompeo said after the talks with Lavrov that he had told Moscow to free a group of detained Ukrainian sailors and to work with Ukraine's new president to bring peace to eastern Ukraine. However, asked later whether it was still a precondition that Russia must release the Ukrainian sailors before Trump would meet with Putin—as they are expected to do at the G20 Summit in June—Pompeo did not answer. (Reuters, 05.14.19, CNN, 05.14.19)
Pompeo also reasserted that the Trump administration does not recognize Russia's annexation of the Black Sea peninsula of Crimea in 2014 -- something the Russian government insists is no longer open for discussion. (CNN, 05.14.19)
Putin and Pompeo did not discuss Ukraine "at all," according to Putin's aide Yuri Ushakov. (Russia Matters, 05.15.19)