In the Thick of It
A blog on the U.S.-Russia relationship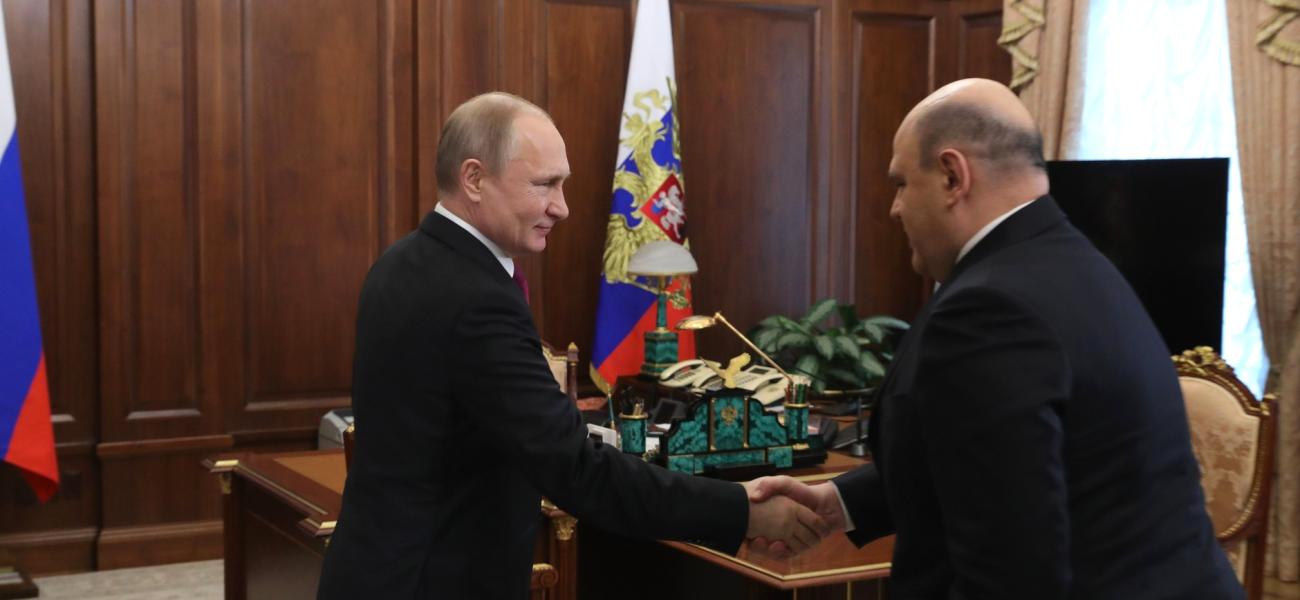 Putin's Domestic Approval Rebounds; Numbers for Mishustin Less Clear
October 08, 2020
RM Staff
Despite experiencing a decline in public opinion numbers for much of this tumultuous year, Russian President Vladimir Putin's approval rating has begun to rise again, returning to early 2020 levels, and the approval ratings of most major government institutions have maintained stability as well. New Russian Prime Minister Mikhail Mishustin, however, has become more of a polarizing figure in Russian society over the past few months, according to the Levada Center.
The Russian independent polling organization's Sept. 25-30 poll shows that 69 percent of Russians now approve of Putin's actions as president, compared to a record low of 59 percent in late spring, when Putin had implemented a stay-at-home order due to the spread of COVID-19 in Russia. Figure I shows patterns in approval of Putin's actions throughout 2020:
Figure I: Do you generally approve or disapprove of Vladimir Putin's actions as president of Russia?1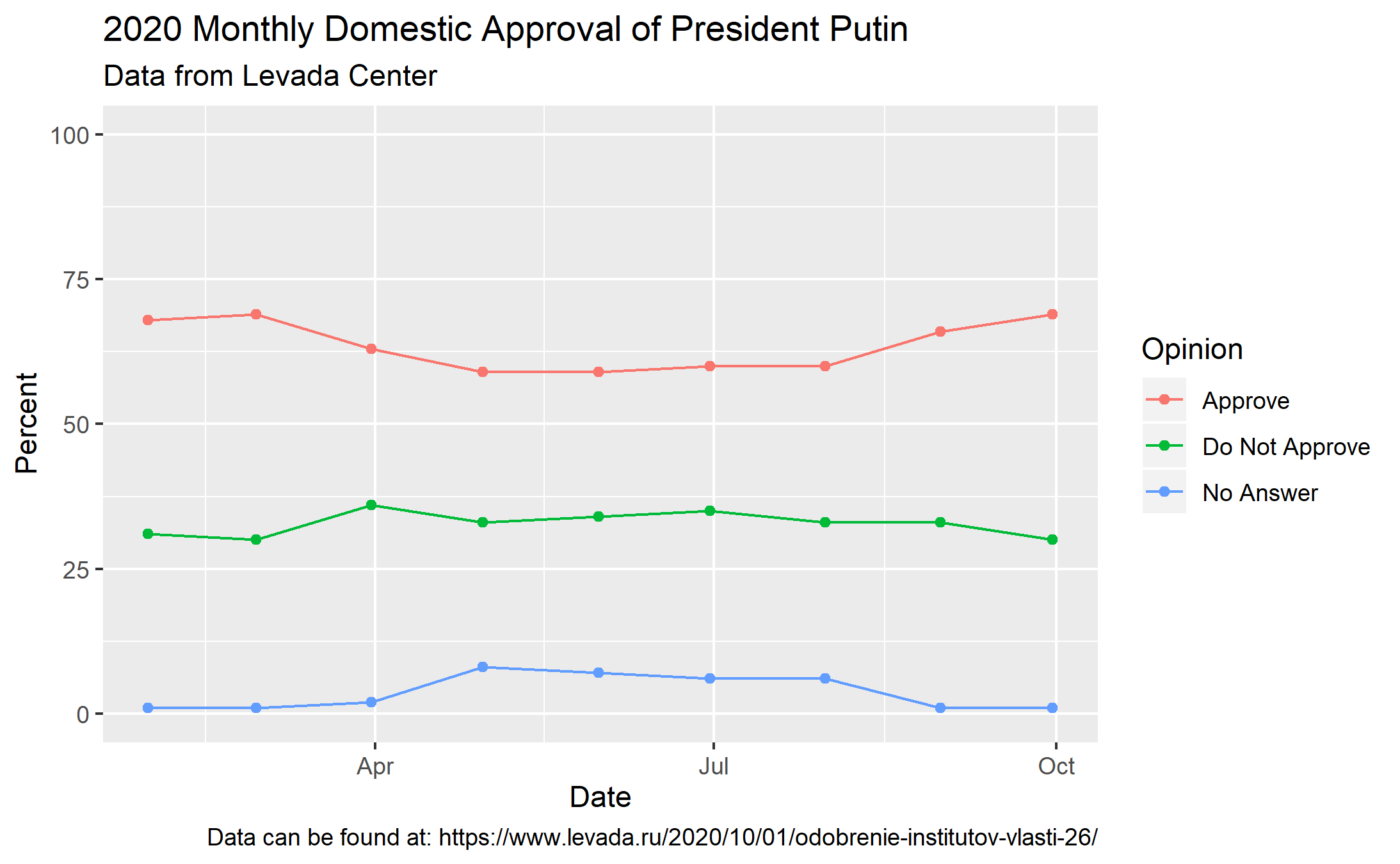 For Mishustin, however, recent trends are not as unambiguously favorable. On the one hand, public approval of Mishustin over the last two months is the highest it has been throughout his short tenure as Russia's prime minister. However, disapproval of Mishustin has also risen 11 percent over the last two months, while the percentage of respondents providing "no answer" to the question has plunged. As Mishustin settles into his new position and becomes more of a household name in Russia, Russians seem to be forming more concrete opinions on him, both positive and negative. Figure II shows these patterns:
Figure II: Do you generally approve or disapprove of Mikhail Mishustin's actions as prime minister of Russia?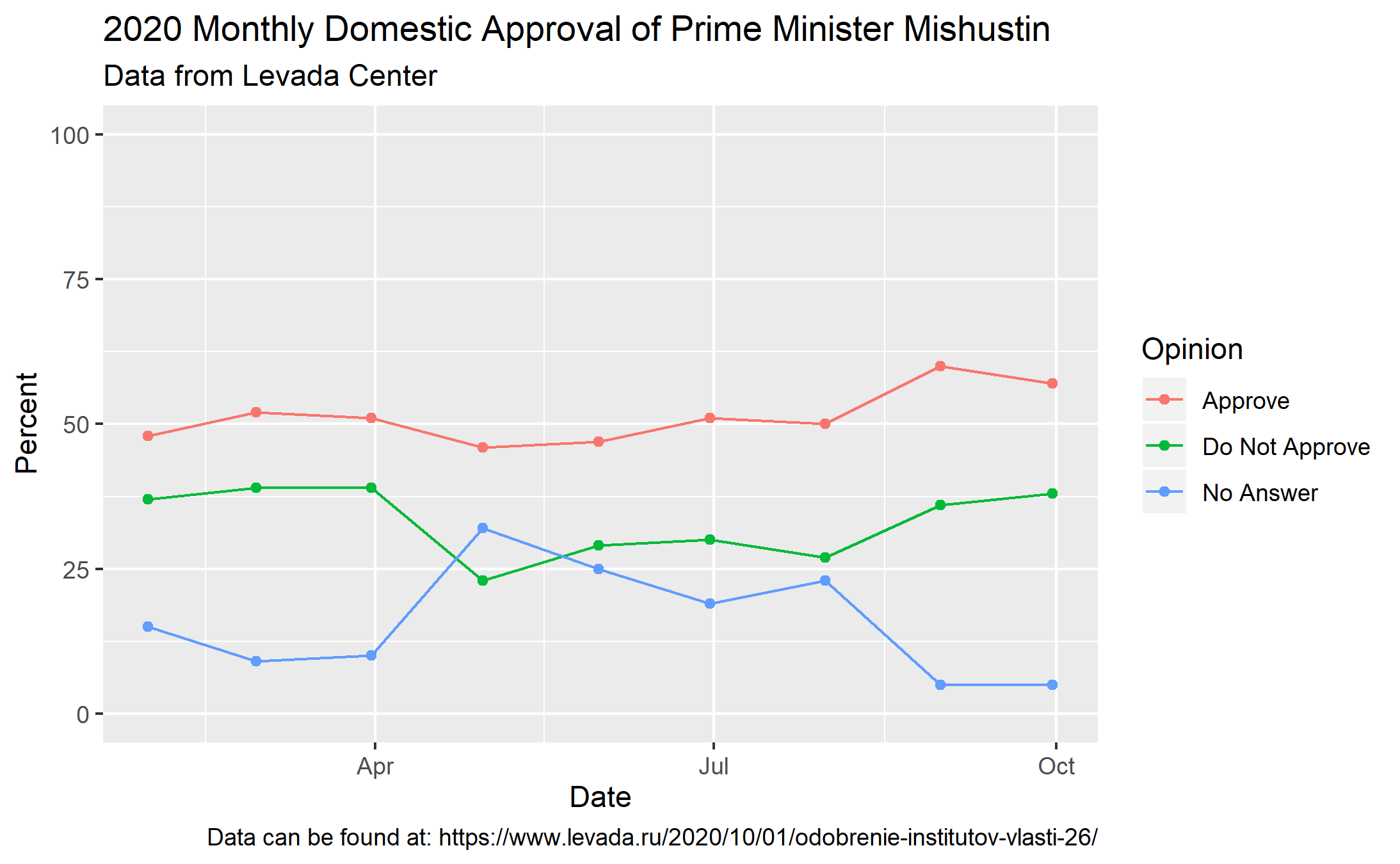 Levada's poll also measured approval ratings of the government, the Duma and of respondents' respective regional governors, as well as whether respondents believed that the country was generally going in the right direction; all four of these indicators showed little change from the start of the year. Fifty-one percent of Russians approved of the government's actions in September, compared to 50 percent in February, while the Duma's approval rating was at 44 percent, which did not diverge from the general 41 to 44 percent approval range for 2020. Governors, despite a slight drop in approval in late spring and early summer, have largely returned to the levels they saw at the beginning of the year, around 65 percent approval. Finally, in September, 50 percent of Russians indicated their belief that the country was generally going in the right direction, compared to 40 percent who indicated the opposite and 10 percent who had difficulty answering. These numbers match almost exactly those from January: 52 percent, 39 percent and 10 percent, respectively.
For those who predicted that Putin's approval rating would continue to decline into the fall, these latest poll numbers appear to disprove the theory. However, less clear trends for Mishustin and new regulations brought on by rising coronavirus cases in Russia signify that Russian politicians may not in fact be out of the woods yet.