In the Thick of It
A blog on the U.S.-Russia relationship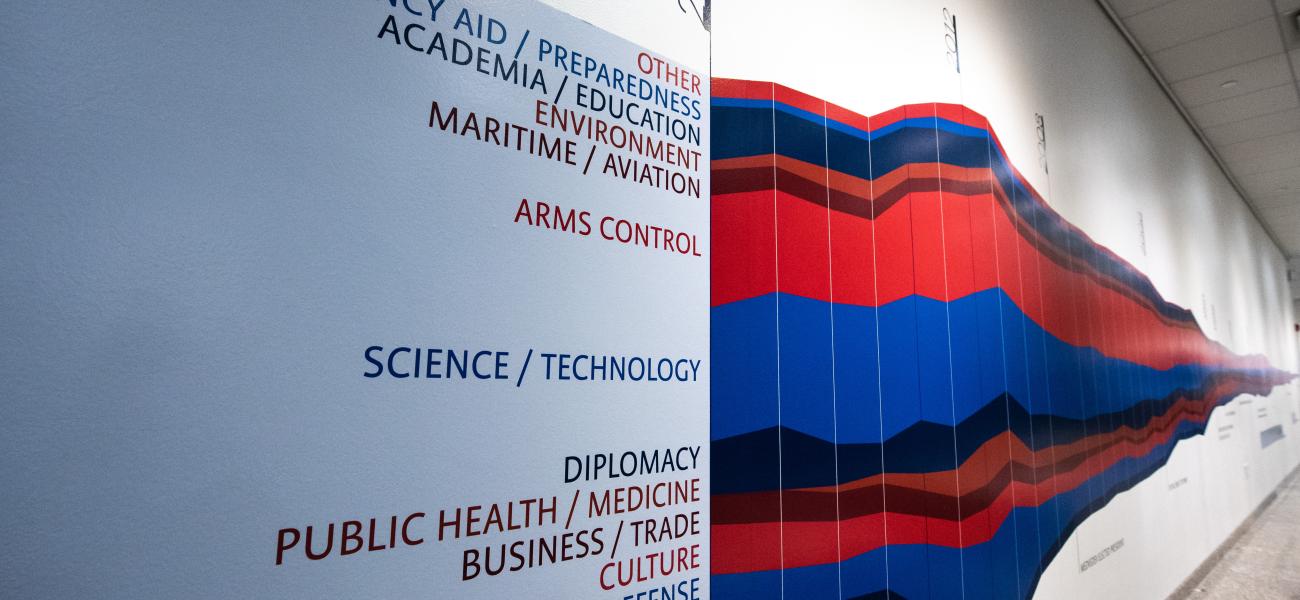 From Russia Sanctions to Central Asia: Highlights from Harvard's Davis Center at 70
November 21, 2018
Daniel Shapiro
This fall, Harvard University's Davis Center for Russian and Eurasian Studies celebrated its 70th anniversary with a weekend of panels that brought together alumni, current students, faculty and others associated with the center for discussions on a wide range of topics concerning Russia and Eurasia. Below are some highlights. An exhibit featuring the timeline of U.S.-Russian interaction shown above is on view at Harvard until Dec. 14, 2018.
Present-Day Russian Politics
Harvard's own Alexandra Vacroux chaired a panel on the connections between Russian foreign and domestic policy, with speakers discussing political networks, xenophobia and sanctions. Henry Hale of George Washington University argued that Russian politics are largely defined by extended networks of personal acquaintance and that the Putin regime is not as stable as it may appear, since it is vulnerable to interruptions in these networks, among other problems. Yoshiko Herrera from the University of Wisconsin-Madison approached the topic from a different angle, focusing on Russian nationalism. She noted that while xenophobic violence in Russia has decreased, it has been refocused toward a dislike of the West, although not toward a rejection of European identity. Other panelists focused more on economics. Oksana Antonenko, an analyst with the global consultancy Control Risks, addressed Russia's continued resource reliance and lack of presence in many global supply chains. Antonenko also discussed sanctions, arguing that they have in fact served to benefit state-run industry to the detriment of the private sector. Christopher Jarmas, a recent Davis grad now working as an analyst at the Sayari consultancy, also addressed sanctions, emphasizing that they are meant to have a long-term impact and are more effective when states are closely tied together economically, and that their impact on Russia will really be felt once oil prices fall.
Contemporary Central Asian Politics
A panel on contemporary Central Asian politics, chaired by Eurasianet's Caucasus editor, Joshua Kucera, focused on Central Asian states' changing internal and external political outlooks. Regarding foreign policy, Nargis Kassenova of Kazakhstan's KIMEP University noted Russia's general lack of attention toward Central Asia and Central Asia's turn toward other regions (such as China, the West and the Gulf States) for inspiration for modernization. Kassenova also argued that Central Asian states were forming a sort of "strategic partnership" with China, while Pauline Jones from the University of Michigan added that Russian and Chinese influence in Central Asia is not zero-sum, and that even as China's influence grows, Russia's influence will likely remain constant. The conversation around domestic politics mainly focused on Uzbekistan's new government. Jones mentioned how Uzbek President Shavkat Mirziyoyev has shown some support for globalization, but has not advocated for liberalization and tends to look toward Kazakhstan's Nursultan Nazarbayev for inspiration. Kassenova added that Mirziyoyev's Uzbekistan wants to be a more "normal autocracy."
History and Arts
While much attention was devoted to politics, a fair share of it went to history and the arts as well. The anniversary celebration was bookended by events related to iconography, including an opening panel—led by Harvard professor Michael Flier and Davis graduate Sarah VanSickle whose work as a student had focused on the use of religious imagery in Ukraine's Maidan protests—and an excursion to the Museum of Russian Icons. Davis Center director Rawi Abdelal led a panel on history's impact on the present, in which Harvard professor Timothy Colton raised the question of modern-day Russia's direction, so different-seeming now compared with the days of Gorbachev and Yeltsin, with President Vladimir Putin focusing less on Russia's "direction" per se and more on ensuring that the Russian state itself is as structurally strong as possible. Harvard's Terry Martin discussed the historic strength of the Russian state and how this history manifests itself today in the "information state" described by UCLA's Daniel Treisman, while Harvard's Serhii Plokhii described ties between Russia's imperial legacy and its modern-day Ukraine policy. Julie Buckler, also of Harvard, trained her sights elsewhere, discussing historical artifacts such as Faberge eggs, lapel pins and icons and how they are viewed in contemporary Russia.
The opinions expressed in this commentary are solely those of the author.