In the Thick of It
A blog on the U.S.-Russia relationship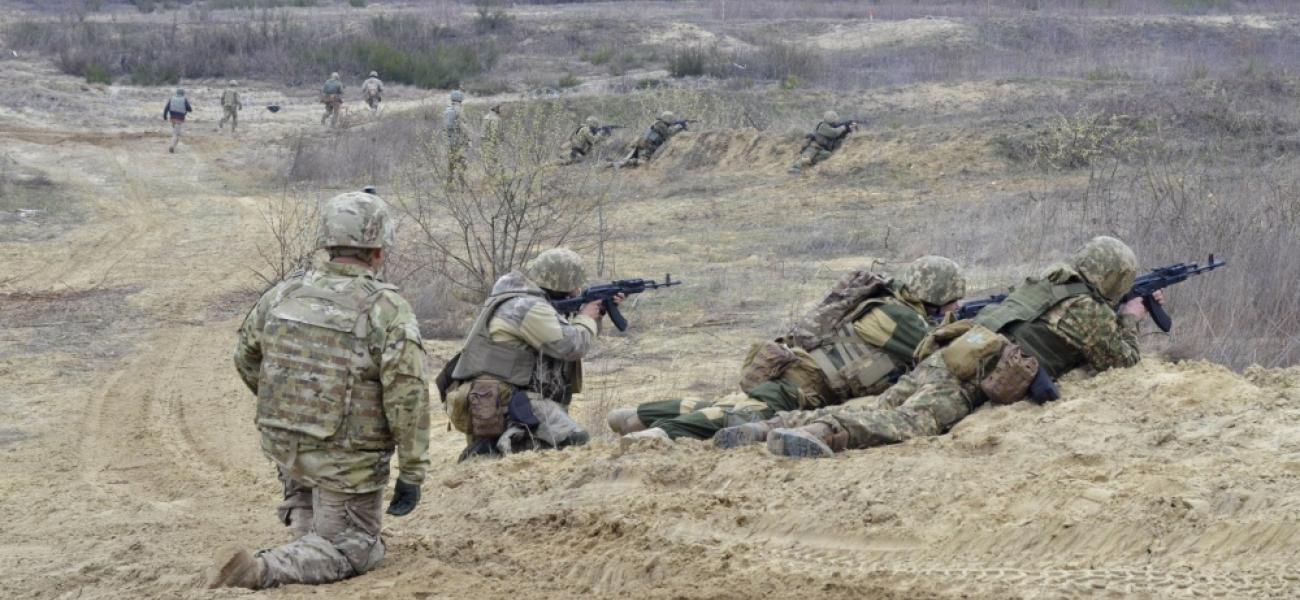 Ukraine's 'Creeping Advances': A Win-Win Tactic?
July 05, 2018
Huseyn Aliyev
Soon after the start of Russia's official military involvement in Syria, another army, hundreds of miles away, ramped up its activity: Ukraine's armed forces became emboldened in their war with separatists in the east. Under the radar, they have been retaking control of a narrow strip of contested, crime-ridden no-man's land in the war-torn Donbas region using a tactic known as "creeping advances." Between February and May, for example, they managed to advance about 6 miles deeper into the area, deploying small, highly professional units. The slow-paced advances, ongoing since February 2016, have enabled Ukraine to take firmer control over the porous demarcation line with its separatist republics, to improve its military's tactical capabilities (and, possibly, its morale) and to test Russia's response—which, so far, has been minimal. For now, Ukrainian troops have focused their efforts mostly on small villages. On one hand, some analysts suspect that attempts to take bigger, strategically important settlements could provoke a large-scale Russian military response; on the other, Russia may be reluctant to deepen its involvement in eastern Ukraine's grinding war. The paradox seems to be that, whatever Russia's response to the creeping advances, Ukraine's leadership—struggling to retain legitimacy and the confidence of citizens and Western donors—stands to reap a net benefit from the tactic.
The geographic focus of the stealthy advances has been the so-called gray zone (map here)—a strip of land between Ukrainian armed forces and the self-proclaimed, separatist-controlled Donetsk and Luhansk people's republics (DPR and LPR, respectively). This territory formally fell to Ukraine under the Minsk armistice agreements, but was not under Ukraine's de facto control. As a result, it has been used for the most part by smugglers and criminal groups or, in places, remains under separatist control.  
While Ukraine's creeping advances have largely been disregarded by media and Ukraine watchers in the West, they were a central feature of a recent spike in violence in the country's east. In mid-May—after a week that the OSCE's Special Monitoring Mission for Ukraine called "in many ways the worst we have seen so far this year," with some 7,700 ceasefire violations—Ukrainian troops, through slow and steady advances, reached the outskirts of Horlivka, or Gorlovka, a strategically important outpost located in separatist-controlled territory near the road to Donetsk.
Ukraine's official position is that the advances do not violate the Minsk agreements and Ukrainian troops have been careful not to cross the Minsk I line, which is the only demarcated "border" with the DPR and LPR that Kiev has officially accepted. However, the Sept. 19, 2014, memorandum accompanying Minsk I explicitly forbids any offensive operations by either side. This perhaps explains why, according to media reports, Ukraine portrayed its actions near Horlivka as defensive: "This is not an offensive; it's taking control of potentially dangerous spots," an unidentified official reportedly told the Russian Kommersant newspaper, explaining that separatist forces could have used the heights around Horlivka to fire on Ukraine's military. The two sides, as in previous cases, blamed each other for the uptick in violence. (U.S. diplomats, including the special envoy for Ukraine, Kurt Volker, put the blame squarely on Russia, as they have in the past.)
Other territory gained by the Ukrainian army via creeping advances, according to media reports, includes: Svetlodarsk strip near Debaltseve, which had been occupied by separatists in 2015 (October 2016); the villages of Novoluhanske and Spartak, just a few miles from Donetsk city borders (December 2016); Gladosovo and Travneve villages (December 2017); two more villages, Katerinovka and Novoalexandrovka (January-February 2018).
While creeping advances have been carefully executed to avoid larger confrontations, there has been at least one occasion when Ukrainian troops seized a strategically important site and DPR forces responded with a large-scale counter-offensive. This resulted in the battle of Avdiivka (Jan. 28-Feb. 4, 2017), less than 4 miles from the city of Donetsk. The village was significant for the separatists both because the Donetsk water filtration plant is located on its outskirts (the plant, incidentally, was damaged during May's fighting) and because Avdiivka's industrial suburb, Promzona, is the key logistics point connecting two DPR-controlled enclaves. The Ukrainian military had succeeded in occupying Promzona in late 2016 using creeping advances; in response, DPR units launched a large-scale assault to re-capture it, but failed. Rather than intervene, Russia played down its proxies' unsuccessful attack on Avdiivka, describing it as a minor border skirmish.
According to several Ukrainian military analysts—including Dmytro Tymchuk, Konstantin Mashovets and Yuri Butusov—the purpose of creeping advances is to improve the armed forces' defensive capability and to retake control over the line of demarcation, which fits into a broader strategy of boosting morale and building confidence in the armed forces. The advances also give Ukraine more chances to deploy its NATO- and U.S.-trained infantry units: The bulk of creeping advances have reportedly been carried out by the 72nd mechanized brigade, which has been part of a pilot training project by the United States and NATO at the Yavorov range. Despite some risks, Ukrainian troops seem to gain a net tactical advantage from their stealth offensives. While greater proximity to separatist forces exposes the Ukrainian military to a greater risk of small-arms fire, it also reduces the threat from separatists' long-range artillery and heavy firepower, according to Ukrainian military expert Oleh Starikov. And the U.S.-supplied Javelin anti-tank missile systems—which the military began using in mid-May—will be a significant asset for Ukrainian troops during advances into rebel-controlled settlements, says another Ukrainian military expert, Mikhail Zhirokhov, because the key threat to Ukrainian units at close range has come from the separatists' Russian-supplied tanks. (The Javelins' major advantage is their vastly superior aim compared to Ukrainian-made Korsar anti-tank systems, currently the only alternative available to Ukrainian forces.)
Another significant objective pursued by the Ukrainian military through creeping advances is to test how separatists and Russia will respond to them. Apart from Avdiivka's Promzona, areas taken by Ukrainian forces using the tactic have been of little strategic importance for the separatists, and their reaction has been limited to artillery and tank fire at the recaptured villages. Russia has had no visible reaction thus far, so the Ukrainian army may continue relying on creeping advances. Some Ukrainian commentators, however, have suggested that any effort to retake larger towns, such as strategically important Horlivka, could lead to a more robust Russian response.
The key question is this: If Ukraine attempts to advance toward any other large city in separatist-controlled territories, would Russia be compelled to give the separatists direct military support, as it did in late 2014-early 2015? And, if it is, how would the West respond?
In terms of the creeping advances' broader foreign and domestic policy implications, Ukraine is likely to benefit from the tactic regardless of Russia's response. Military escalation on the border—including Moscow's direct (or covert) intervention—could lead to more U.S. and EU sanctions against Russia and/or more significant U.S. weapon supplies to Ukraine. But the absence of a Russian reaction would be similarly favorable for Kiev, allowing the Ukrainian military to retake lands currently not under its control and to improve its counterinsurgency and reconnaissance capabilities. Also, either outcome could be used during the March 2019 presidential election by President Petro Poroshenko, whose recent ratings have barely crept above single digits: If Russia does not respond, Poroshenko, who has pledged to rebuild Ukraine's military, can brandish "de-occupation" via the creeping advances as a major success (arguably the military's only one since the implementation of Minsk II, despite large volumes of aid from NATO, the U.S. and the EU); if Russia does respond, Poroshenko can call on Ukrainians to rally around the flag and support him in the face of a formidable foe. 
As noted above, the shift in Russia's military and strategic interests from eastern Ukraine to Syria in September 2015 emboldened the Ukrainian military to become more active in Donbas and to adopt the creeping-advances tactic. But Russia's attempts to scale back its own military involvement in Ukraine seem to have arisen even earlier: Since the implementation of the Minsk II agreement in February 2015, Moscow has appeared to be committed to preserving the status quo in Donbas—cleansing the DPR and LPR leadership of radical elements in 2016-2017 and seeming much less willing to escalate the conflict militarily than it was in early 2015 when it supported separatist offensives. This is unlikely to provide a long-term solution to Ukraine's problems, but it has certainly given Kiev more room to maneuver.
Huseyn Aliyev is the Lord Kelvin Adam Smith Fellow in Central and East European Studies at the University of Glasgow.