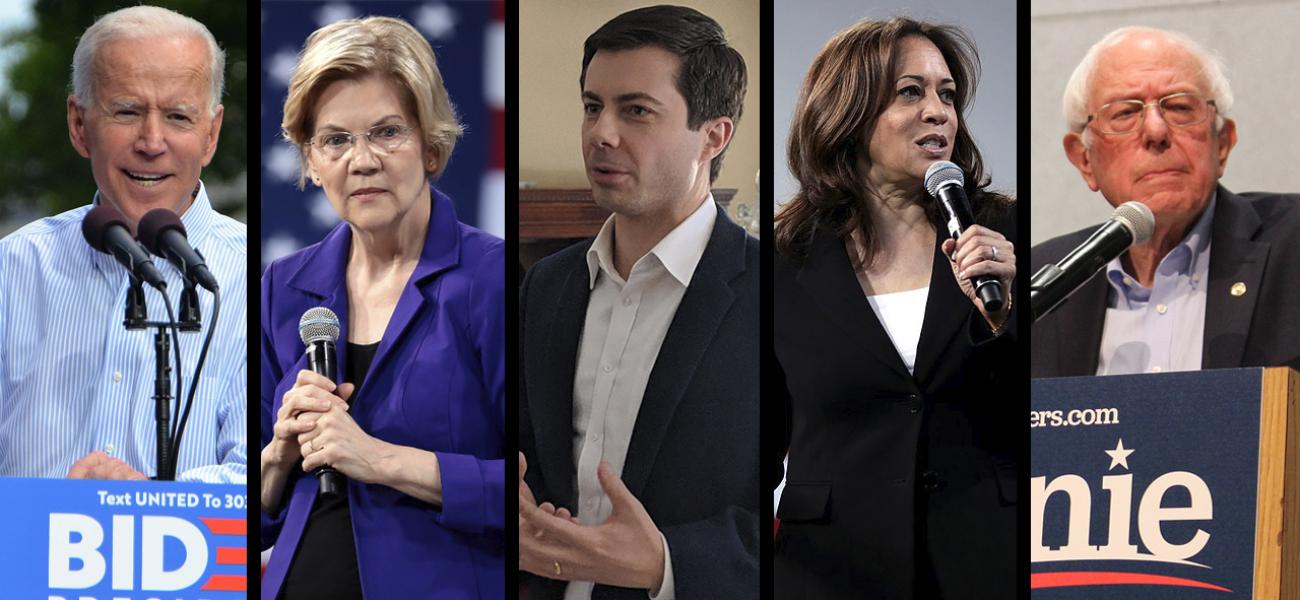 2020 US Presidential Candidates on Russia: What Have They Said So Far?
December 20, 2019
Daniel Shapiro and Thomas Schaffner
NB: This post was originally published May 23, 2019. Latest updates marked "NEW."
A crowded field of candidates stands to challenge Donald Trump in the 2020 American presidential election: As of May 16, 23 Democrats and two Republicans, including the incumbent, had announced their candidacy (or 24 Democrats if you count self-proclaimed disruptor Mike Gravel). On topics most pertinent to the U.S.-Russia relationship, these contenders overwhelmingly agree on some key issues, including the proposition that Russia is a key adversary of the United States whose meddling and perceived aggression must be responded to firmly. Many of the candidates also agree that it is crucial for the U.S. to preserve such bilateral arms control treaties with Russia as the INF Treaty and New START. On some points the candidates differ—for example, on the conflict in Syria Rep. Tulsi Gabbard (D-Hawaii), a veteran of the Army National Guard, favors closer cooperation with Russia (and an end to U.S. military intervention overseas more generally), while Sen. Kamala Harris (D-Calif.), a former prosecutor, has pushed for the ouster of Syrian leader Bashar al-Assad. Below is a sampling of the candidates' views as expressed since Trump's election in November 2016, not an exhaustive record. The quotes are divided into categories similar to those in Russia Matters' news and analysis digests. The current president's views on Russia are not included here, but were published in an earlier compilation last summer. Candidates are identified on first mention and Democrats' comments come in the order of recent polling averages; remarks made by candidates with the same reported chances of winning are given in alphabetical order by last name.
I. U.S. and Russian priorities for the bilateral agenda
Nuclear security and safety:
North Korea's nuclear and missile programs:
Iran and its nuclear program:
New Cold War/competition among great powers:
NATO-Russia relations:
Nuclear arms control:
Counterterrorism:
Conflict in Syria:
Cyber security:
Elections interference:
Energy exports:
U.S.-Russian economic ties:
U.S.-Russian relations in general:
II. Russia's relations with other countries
Russia's general foreign policy and relations with "far abroad" countries:
China:
Ukraine:
Russia's other post-Soviet neighbors:
III. Russia's domestic policies
Domestic politics, economy and energy:
Security, law-enforcement and justice:
RM staff also contributed to this compilation.
Author
Daniel Shapiro
Daniel Shapiro is a graduate student at Harvard University specializing in contemporary Russian politics, Russian public/private sector relations and the North and South Caucasus. He is also a graduate student associate with Russia Matters.
Author
Thomas Schaffner
Thomas Schaffner is a student web assistant with Russia Matters and a graduate of American University.