In the Thick of It
A blog on the U.S.-Russia relationship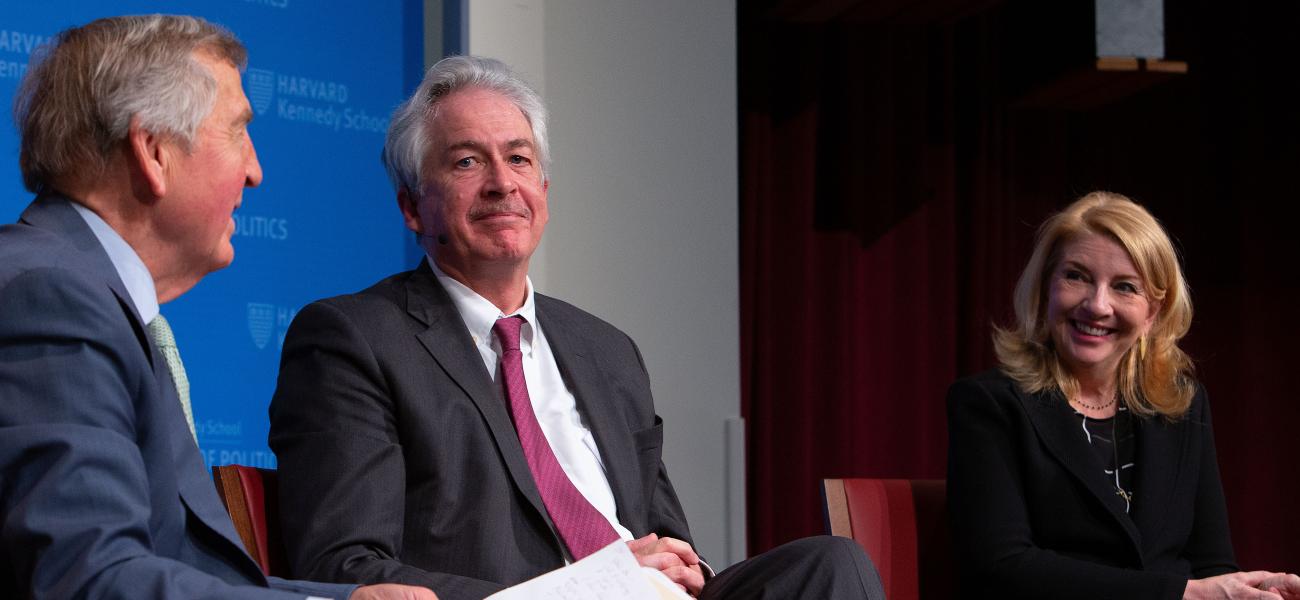 William Burns on the 'Narrow Band of Possibilities' in US-Russia Relations
March 29, 2019
RM Staff
William Burns has been hailed as one of America's most outstanding diplomats—perhaps the only living person to have a room named after him at the State Department, according to Ambassador Cathy Russell. In his new book, "The Back Channel," Burns argues that the U.S. now needs skillful diplomacy like never before and shares insights on key foreign-policy challenges, including relations with Russia, where he was ambassador in 2005-2008. On March 28, Burns, Russell and Harvard professor Graham Allison discussed the book and, more broadly, diplomacy's crucial role in international affairs, as well as its illusions and limitations.
During the talk, Burns applied a decidedly pro-diplomacy lens to Russia: Despite the badly damaged relations between Washington and Moscow and the "very narrow band of possibilities" in those relations under Vladimir Putin's regime ("from the sharply competitive to the nastily adversarial"), "there is space for artful American diplomacy as you look ahead" and a need for "guardrails" that keep the situation from getting worse, he argued. "It's important," Burns believes, "not to give up on the Russia beyond Putin": The Russian middle class is not "revolutionary" but it is "restive … over economic stagnation" and an "absence of possibilities," and in the longer term Russians will start chafing at being "China's junior partner" just as they chafed at Moscow's status as America's junior partner after the end of the Cold War, Burns said. Even in the short term he was hopeful there may be room for cooperation on Afghanistan, where Russia, like the U.S., has "a stake in some kind of stability."
At the same time, Burns was far from Pollyannaish about bilateral ties today: "Essentially we're managing an adversarial relationship" with Russia and "we don't have to have illusions about that," he said. He expressed particular concern that what's left of the bilateral arms control architecture "is about to crumble," with the INF Treaty effectively null and the renewal of New START, due in 2021, looking increasingly unlikely. "That would be a huge disadvantage not only for the U.S. and Russia but for the rest of the world at a time when we're trying to make the argument against the proliferation of nuclear weapons," Burns said.
After the event, Burns—who rose to the rank of deputy secretary of state and has served as president of the Carnegie Endowment for International Peace since leaving the Foreign Service in 2014—gave some details about what he thought a realistic U.S. strategy for relations with Russia might entail, other than joint efforts toward peace in Afghanistan. First and foremost, this included expanding New START and "talking about what we used to call strategic stability," including all the ways in which the intersection of cyber instruments with nuclear weapons and advanced conventional weapons can destabilize the relationship. Options for coming closer to agreement on Syria are very limited, Burns feels, but at least Moscow and Washington could work to guard against escalation in the region between Israel and Iran and between Turkey and the Kurds.
Those who are interested in Burns' insights about Putin—whom the diplomat calls an "apostle of payback" and a "combustible combination of grievance and ambition and insecurity"—and in his prescient concerns about "leaving NATO expansion on autopilot" can view the whole event below, read Graham Allison's review of "The Back Channel" and Burns' recent interview with The New Yorker and, of course, read Burns' book for themselves.
The book contains a separate chapter on U.S.-Russian relations during Putin's rule and an appendix full of fascinating, newly declassified documents. In one of the cables Burns sent to Washington as ambassador in Moscow, he noted that the U.S. has come to face a "Russia that's too big a player on too many important issues to ignore." The book also features a February 2008 email from Burns to then Secretary of State Condoleezza Rice with the subject heading "Russia Strategy." The e-mail argued against the Bush administration's intention to push for NATO membership action plans (MAPs) for Georgia and Ukraine at an upcoming summit of the alliance, describing it as one of  "three potential trainwrecks" in U.S.-Russian relations, along with Kosovo and missile defense.
The email warns that granting a MAP to Kiev will amount to crossing a Russian redline and may prompt Moscow to start meddling in Crimea and eastern Ukraine. Granting a MAP to Georgia, Burns argued, would raise high the prospects of a war between Russia and Georgia. The final communique of the April 2008 NATO summit did not include references to MAPs, but stated unequivocally that Ukraine and Georgia "will become members of NATO." Four months later Russia and Georgia fought a war along the lines Burns had anticipated, and five years later Russia—its military significantly improved, based in part on its Georgia experience—sent its "little green men" to meddle in Crimea and eastern Ukraine after a pro-Western revolution in Kiev.
In addition to Burns' foresighted email to Rice, the book's trove of correspondence includes a 1993 memo written by outgoing Secretary of State Lawrence Eagleburger for the incoming Clinton administration, in which he rightly argued that "the collapse of Communism … has not ended history" and warned that it was "certainly conceivable that a return to authoritarianism in Russia or an aggressively hostile China could revive" the Cold War-style threat of "a global military adversary." It also contains Ambassador Thomas Pickering's Jan. 11, 1995, cable from Moscow to Washington describing the challenges Boris Yeltsin faced as he tried to quell violent separatism in Chechnya, a sign of Russia's "slow crumbling," and a May 27, 2008, memo to the secretary of state discussing U.S. strategy vis-à-vis Iran beyond the future nuclear deal, noting that Russian help could be instrumental in implementing parts of this strategy.
Photo by Gail Oskin, courtesy of Harvard's Institute of Politics.
The opinions expressed in this commentary are solely those of the author.